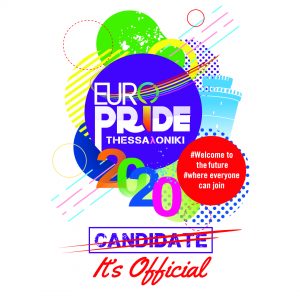 EuroPride 2020 – Thessaloniki
It's official!
Thessaloniki Pride will host EuroPride in 2020, following voting by members of the European Pride Organisers Association at their annual meeting in Gothenburg, Sweden, in September 2017.
Europride is a central pride event of Europe that promotes LGBT equality, love and visibility and is hosted in a different european city each year. Europride was inaugurated in London in 1992 and it will be hosted for the first time in Southeastern Europe. Thessaloniki won a clear majority of votes in the second round of voting against Bergen Pride (Norway), The Belgian Pride (Brussels), and Hamburg Pride (Germany). A contributing factor for Thessaloniki's win was that the fight against LGBT discrimination is at a crucial point in Greece and by hosting Europride in Thessaloniki the whole Balkan region where homophobia and transphobia are common will be affected.
Thanos Vlachogiannis of Thessaloniki Pride said:
"We would like to thank the members of the European Pride Organisers Association for granting Thessaloniki the honour and responsibility to host the 2020 EuroPride. It is a major opportunity for the LGBTI movement in Europe to show its solidarity and fight for equality and inclusion where the everyday battle for visibility and wellbeing of LGBTI community takes place. This cornerstone decision reflects our determination to welcome EuroPride in south east Europe for the first time and deliver the message to our society and Europe that we can make breakthroughs despite the harsh conditions. Organising a safe, political EuroPride that is still full of vibe and excitement is a challenge and a promise of ours to Europe and the world."
Thessaloniki hosting 2020 Europride is estimated to give a big boost to the greek movement for LGBTI acceptance as it will bring forth internationally the greek reality in this sector and it will attract thousands of people in Thessaloniki in 2020 to participate in this celebration of love and diversity.