We are proud to announce the slogan of the 6th Thessaloniki Pride: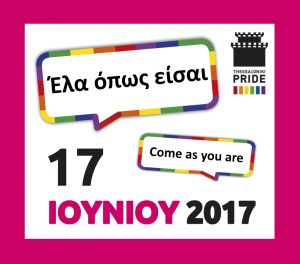 COME AS YOU ARE
Come as you are without feeling ashamed of your sexual orientation, your gender expression or identiy, your sex characteristics or any other identity you might have. Come as you are to chant this slogan in the streets of Thessaloniki on 17 June '17.
Besides, if you are a graphic designer and you want to make the poster of Thessaloniki Pride for this year, as well as the visual identity of the festival, come as you are, too. Contact us to let you know about the terms, the deadlines and the requirements.
contact@thessalonikipride.com     |     231 1 289320     |     www.fb.com/ThessalonikiPride