Thessaloniki pride στο Through The Lens Of the Other, Malta 2019
With the end of the first Erasmus + Youth Exchange 'Through the Lens of the Other', added to a series of meetings and actions, one can only remember and evaluate. This particular program took place in Marsaxlokk, Malta and lasted 10 days from 9 to 18 September and had 3 goals that needed to be achieved. The final product which is
supposed to come out of this program is a documentary from each participating country, about the discrimination that exists in each country.
The first two days of the exchange were aimed at building relationships and getting to know each other and were therefore devoted to sociometric and creating of a suitable workplace games. The next two days were aimed at understanding "intersectionality" by justifying seminars and workshops focused on the discrimination of different minorities. The two additional days included workshops and theory on the film making process, a key objective of the exchange.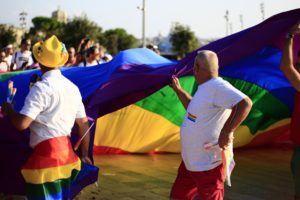 Some of the experiences that are worth mentioning is the workshop of Thessaloniki Pride entitled 'Antithesis' inspired by Ulysses Artistic Union's Action Plan on stereotypes and discrimination including LGBTIQ aspects. In the framework of the exchange, the presentation of each country in the intercultural night is foreseen. The Greek spirit and the way of life was presented in an artistic way.
Finally, we could not miss the opportunity to join Malta Pride, in Valletta and join the parade with the flag of Europride 2020. A parade that decorated the capital's picturesque alleys with colors and slogans thus motivating every citizen to active involvement! On the tenth day, the farewell came. Our emotions were mixed but certainly positive at the completion of this program. Our next stop with the promise to be together again?
Hungary, Spring 2020!
Thessaloniki Pride Team:
Φωτεινή Καραμούζη Χαλκιά – Project Coordinator
Πάνος Σκεπαδιανός – Youth Worker
Ελένη Λενέτη – Youngster Participant
Μαριάννα Ματεβοσιάν – Youngster Participant/ Photographer
Κως Τέλιου – Youngster Participant
Credits
📸:  m.mate
📸 : Zsombor Pál